Lock Yourself In A Profit With OddsMonkey
A few years ago, if you had asked me to bet on the horses or the football, I would have run a mile. Gambling has just never been my thing.
I always knew it could be fun to have a punt on your favourite team and as long as you stayed sensible and within your means, there's a chance of having a decent win without risking too much. For me though, I've always preferred more solid and reliable ways to create an income.
Well, one weekend afternoon I was having a little web surf when I came across a list of extra cash-making ideas. Right at the top of the list at No.1 was something called Matched Betting. The writer of the article was saying something similar to what I have just said, that he had never been into betting, that prior to coming across Matched Betting, he had barely been into a bookies, let alone knew much about what he was doing.
As I continued to read the article, what I found was that this thing called Matched Betting is not actually gambling at all. You do need to place bets on sports, but the reason it is not gambling is that it is all about taking advantage of the free bets regularly given out by bookmakers. (All completely above board and legal).
You place a bet, which is immediately cancelled out with an opposing bet that you place. You then repeat the process but with a free bet you have qualified for (the bookie's money), guaranteeing a profit.

How does Matched Betting work?
The appeal of Matched Betting as a great way to make some extra money every month, comes down to the way that you can turn the regular free bet promotions from bookmakers into actual cash.
As it is about mathematics (and the maths is done for you) and not chance, the risk of losing anything is very low. In fact, if you do everything as instructed you can't lose, but you still do have to watch out for a few simple "human errors". (Example: making sure you key in the right numbers or choose the right sport for the offer).
Here is a quick example:
OddsMonkey tells you that there is a new customer offer available with an online bookmaker, which is: Bet £10, Get £30 of free bets. It could be horse racing, it could be football or tennis. It doesn't really matter, the principles are the same and you don't need to know anything about the sports.
To get the £30 of free bets, you first need to spend £10 of your own money. We call this the qualifying bet. Don't worry about losing the £10 though, because you won't. This is cancelled out by the lay bet ..Read on to learn more about how this works..
The Qualifying bet: This is the first part where you use your own money. A bookmaker will offer many free bet promotions for new and existing customers, in exchange for betting some of your hard earned cash.
In order to unlock the free bet/s, you first need to qualify by spending something. In this case £10. With Matched Betting, you're not going to make any money from this bet and you're not going to lose either. The profit comes from the free bet itself.
The Back bet: This is a bet you make when you are betting for something to happen. It is the standard bet at a bookmakers that you make when you believe that the team/horse/player will win etc.
The Lay bet: When betting exchanges arrived on the scene, they completely changed things because it meant that you could now bet against an event happening. Known as a lay bet, this is the key to Matched Betting because you can cancel out a back bet with a lay bet and cover a loss and a draw at the same time.
So, as you place two bets which cover all possible outcomes, you won't win any money but you won't lose any either, they cancel each other out.
The Free bet: Now for the exciting bit! This is where your money comes from. By doing the qualifying back bet and opposite lay bet as described above, you unlock the £30 free bet/s in this example.
You want to extract the profit out of this free bet and win no matter what the outcome is, so you repeat the above steps, this time as you have qualified for £30 of the bookie's money, you are guaranteed a profit.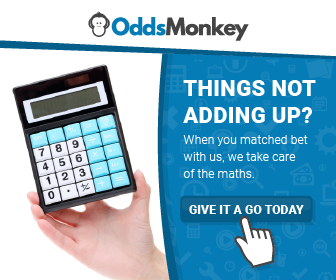 How much money can you make?
It is important to realise that this isn't a get rich quick scheme and Matched Betting is totally legal. It does take a little bit of time and effort but once you get the hang of things, you can make additional tax-free money, month in, month out.
There are two sources of income from the free bets offered – the initial sign up offers from online bookmakers and then the ongoing (known as reload) offers that you get notified of from time to time, often weekly.
At the time of writing, you can expect to be able to make £1,000 – £1,500 pretty easily from the available bookmaker sign up offers alone in the UK.
Beyond this, it is the regular ongoing (reload) offers that will provide your Matched Betting income and over time, this can be significant if you dedicate a bit of time and effort.
It would be a lot harder if you had to do it all alone. Thankfully with OddsMonkey, they have all the guides and information you need for these offers, as well as taking care of the calculations and tracking of events and profit, all in one place. Aswell as that, you have access to a thriving community, to get support and share.
You can try it out here or click the banner below to register for a free trial and be guided making your first few £££s!